Patients and families have the right to choice in their hospice care provider, and it is important to note that experience and the scope of services can vary significantly. We encourage patients and families to ask for Valley Hospice by name.
Valley Hospice staff members are experts at managing the care of patients who are in the final stages of illness, including ALS, cancer, dementia, congestive heart failure and COPD, among others.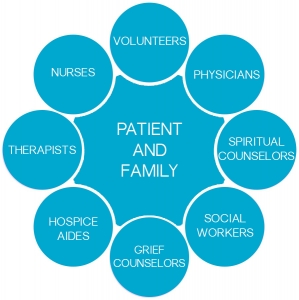 We partner with family members and the family physician to provide the highest quality of hospice care that is tailored to meet the unique needs of each patient and family. We support family members and caregivers with a professional team including physicians, spiritual counselors, social workers, grief counselors, hospice aides, therapists, nurses and volunteers.
Each member of our team is patient-focused and driven to help Valley Hospice patients live their lives to the fullest with purpose, dignity, grace and support.
---
Hospice Levels of Care
Hospice patients may require differing intensities of care during the course of their illness. The Medicare Hospice Benefit affords patients four levels of care to meet their clinical needs; Routine Home Care, General Inpatient Care, Continuous Home Care (Crisis Care) and Respite Care. Payment for each covers all aspects of the patients care related to their hospice diagnosis, including all services delivered by the interdisciplinary team, medication, medical equipment and supplies.
While hospice patients may be admitted at any level of care, the progression of their illness and needs may require a change in their level of care.
Routine Home Care
With this type of care, patients receive hospice care at their residence. We care for patient's at home, at assisted living facilities, in nursing facilities or wherever they call home. Routine Home Care is the most common level of hospice care.
General Inpatient Care
General Inpatient Care is provided for pain control or other acute symptom management that cannot feasibly be provided in any other setting. General Inpatient Care begins when other efforts to manage symptoms have been ineffective. Valley Hospice is the only hospice in the Ohio Valley with the ability to provide this level of care within our specialized hospice care centers; Valley Hospice Mary Jane Brooks Care Center North, in Steubenville and Valley Hospice Liza's Place Care Center South, in Wheeling.
Continuous Care
Continuous Care (Crisis Care) is short-term care provided at the patient's place of residence by a nurse, with the goal of managing pain and other acute medical symptoms. Continuous Care is intended to allow patients to remain at home during a pain and/or symptom crisis.
Respite Care
Inpatient Respite Care is available to provide temporary relief to the patient's primary caregiver. Respite Care can be provided in a hospital, nursing facility or occasionally in one of our hospice care centers. Respite care is provided for a maximum of five consecutive days on a non-routine basis.
---
Home Care
We care for patients at home, in nursing facilities or wherever they call home. Our expertise and support allows patients to remain at home and ensures that caregivers are educated on how to care for their loved ones.
---
Care Centers
Our care centers are a welcoming and inviting place in the community for Valley Hospice patients in need of inpatient, respite or residential care. We are proud to offer the area's only state-of-the-art hospice facilities.
---
Symptom Management
Valley Hospice staff members are experts in managing pain and the complex symptoms experienced by patients with an end-stage illness. Hospice care focuses on all aspects of a patient's life and well-being. Our staff works with the patient and their physician to ensure comfort and the best possible quality of life. This collaboration allows Valley Hospice patients to live their lives to the fullest with purpose, dignity, grace and support.
---
Volunteers
Volunteers are valuable members of the Valley Hospice team who provide support in a variety of ways. Their caring hands are appreciated in our patients' homes, nursing facilties, our offices and our care centers.
---
Grief Support
Our counseling is focused on recognizing where people are in the grief process and assisting them in developing ways to cope and heal. Support is available to anyone in the community who has suffered a loss.
---