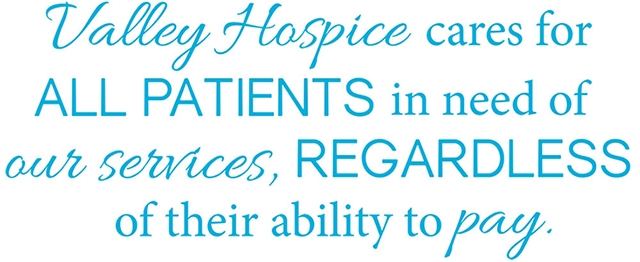 Since its beginning in 1985, Valley Hospice has cared for all patients who can benefit from our services, regardless of their ability to pay, because we believe it is the right thing to do. As you would imagine, considerable financial obligations come with this philosophy. Uncertainty in the future of healthcare nationally increases the need for community support to ensure that Valley Hospice will be able to provide care for generations to come.
Please consider the many opportunities to give to Valley Hospice. By doing so, you will help ensure that Valley Hospice care will be accessible to all of those who need our services, especially those without Medicare or health insurance benefits.
We are grateful to those who entrust us with their care today, and thankful for those who contribute to help us serve those who will need our care tomorrow.
---
Memorials
Memorial contributions are a great way to help support Valley Hospice care for all residents of the Ohio Valley. When a memorial donation is given, the patient's family is sent a card notifying them of the contribution and each donor is sent a thank you.
Because Valley Hospice has a tradition of caring for all patients and families who can benefit from hospice services regardless of their ability to pay, our need for community support is great. If you wish to designate memorial donations to help make Valley Hospice's services available to others, please include the language below in the obituary.
In lieu of flowers,
memorial contributions may be made to
Valley Hospice
10686 State Route 150
Rayland, OH 43943
---
Annual Fund
Each spring, Valley Hospice holds the "May Is a Time to Remember" Annual Fund appeal. Contributions may be made in memory or honor of individuals or families.
"When you remember me, it means that you have carried something of who I am with you. It means that you can summon me back to your mind even though countless years and miles may stand between us.
It means that when we meet again, you will know me. It means that even after I die, you can still see my face and hear my voice and speak to me in your heart. For as long as you remember me, I am never entirely lost." ~ Frederick Buechner
---
Light Up a Life
The holidays are a special time that can hold dear memories that span a lifetime. Valley Hospice's "Light Up a Life" appeal is designed to capture the spirit of the holiday season. The community is invited to contribute in memory or honor of a loved one. With their contribution, they are asked to send in a tag that they can personalize with the person(s) name(s). Some families even decorate the tags with colored markers, stickers, and photographs. The ability to do so makes the experience a very personal and meaningful one especially around the holidays.
Valley Hospice has four trees throughout our service area. Trees are located at Liza's Place, Valley Hospice Care Center South in Wheeling, West Virginia; the Ohio Valley Mall in St. Clairsville, Ohio; and the Fort Steuben Mall and the Mary Jane Brooks Valley Hospice Care Center North in Steubenville, Ohio.
---
Memorial Bricks
The Journey of Life Memorial Walkway at Liza's Place, Valley Hospice Care Center South, is a beautiful way to honor the memory of someone special.
For a contribution of $250 to Valley Hospice, a brick will be laser engraved with up to four lines of text containing 20 characters, including spaces, per line. Inscriptions will be in capital letters.
Once engraved, the paver will be installed in the Memorial Garden at Liza's Place in Wheeling, West Virginia. Bricks are ordered in March, June and September. It typically takes eight weeks after ordering for a custom brick to be received and installed. We will notify you when your brick is in place and ready to view.
---
Trees of Life
Celebrate the life of someone you love by permanently memorializing their name on a leaf on one of our Donor Recognition Trees. The Judy Maple Tree of Life is located in the Valley Hospice Mary Jane Brooks Care Center North, and the Fred Verardi Tree of Life is located at Liza's Place, Valley Hospice Care Center South.
A one-time, lump sum contribution of $1,000 is required to purchase a leaf. The cost of engraving is included.
Below each tree are large bronze stones that can be engraved in the same styles as the leaves, but using larger type size. A one-time lump sum contribution of $2,500 is required to purchase a bronze stone. The cost of engraving is included.
---
Planned Giving
Bequest:
A bequest in your will lets you pass any amount you wish to Valley Hospice. The amount you give will be free from estate tax. It may also be to your heirs' or estate's advantage to designate Valley Hospice to receive the proceeds from IRA, 401(k), or other tax-deferred retirement accounts.
You are encouraged to call for more information. We can help structure your gift to meet your expectations and wishes. Any information you share will be kept in strict confidence and there is no obligation.
---
Personal property:
Valley Hospice welcomes such gifts as they increase our resources to be utilized by patients and their families. If you donate tangible personal property you may qualify for a charitable deduction based on the items fair market value.
---
Stock & Securities:
By giving stock, you not only receive an immediate tax deduction, but you may also avoid capital gains tax.
---
Real Estate:
Contributions of real estate offer attractive tax advantages. You are entitled to an immediate tax deduction and a reduction or elimination of capital gains tax.
---
Annuities & Trusts:
With these options, you place assets in trust and you and/or another beneficiary continue to receive the lifelong income generated by the assets. Valley Hospice receives the remainder.
---
Life Insurance:
You can name Valley Hospice as the policy's beneficiary.
---