Today, one in four dying Americans is a Veteran. Valley Hospice honors those who have so bravely served this country. These men and women often carry experiences from their military service that present unique challenges at the end of life.
Valley Hospice is participating in a national endeavor, the "We Honor Veterans" campaign, jointly sponsored by the Department of Veterans Affairs and the National Hospice and Palliative Care Organization (NHPCO).
Our program, "A Hero's Salute," is designed to provide specialized end-of-life care and support to Valley Hospice patients who have served in the military and their families.
To show our commitment to local heroes, Valley Hospice staff and volunteers receive training in post-traumatic stress disorder (PTSD) and other emotional issues such as, remorse or regret, anxiety and substance abuse.
Veterans are assisted with Living Legacies through life review, veteran-to-veteran volunteer program, spiritual care and counseling, resources/benefits for veterans and dependents and recognition for military service with our "A Hero's Salute" pin.
Valley Hospice accepts VA, Medicare, Medicaid and Tri-Care Insurance as 100% payment for hospice services, so there are no out-of-pocket expenses for veterans for hospice-related services. Valley Hospice accepts all patients regardless of their ability to pay.
---
Living Legacy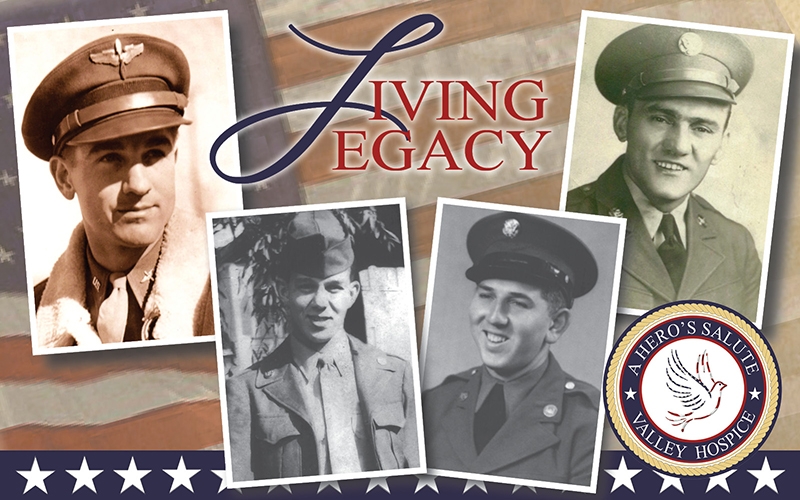 The Valley Hospice Living Legacy creates a unique bridge from the past, to the present, and into the future. Veterans are given the opportunity to share their story and have it preserved for generations to come.
---